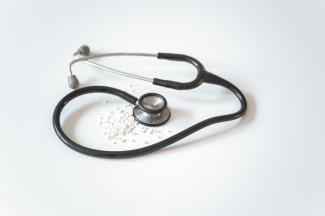 I'd like to begin with a show of hands: all those who enjoy reading their insurance policies, please raise your hands now. Hmmm, I don't see very many and I must admit that if this was a Zoom call, you wouldn't see mine either. However, insurance is part of our lives so it's important that those who buy it either understand it or have trusted advice at hand. WWA doesn't sell insurance but it's a topic of consequence to our clients so I do, in fact, read lots of policies.
This is open enrollment season for individuals to sign up for or adjust Medicare health insurance coverage. While the program is available for some disabled citizens and people with serious kidney problems, most participants are those in my age range, i.e., 65 and older. At this time of year, we seniors are bombarded by mail and phone appeals. Regardless of age, everyone who watches broadcast TV is sitting through commercial after commercial extolling the virtues of one plan or another. Fortunately, there's a more effective method to choose the policy that's best for you.
But let me start by summarizing the coverage options. Part A takes care of hospitalization and is free for most participants. Part B generally deals with physicians' services and must be paid for, with premiums rising as income does. Part C replaces the combination of original Medicare plus a supplement and often covers medicines too. Much of the advertising that comes our way is related to Part C coverage, also known as Medicare Advantage plans. These appear to be 'free' since the government pays the insurer directly for each enrollee, allowing the companies to offer 'no premium' plans. A few weeks ago, I mentioned one famous pitchman, Joe Namath, who recommends one such plan. His ad has the same shortcoming as the rest: there is no offer to compare plans so you can find one that aligns with your needs. It's just an appeal to buy a plan from the insurance company that he's being paid to endorse.
Each of us has our own set of medical conditions and treatment needs. The federal government's Centers for Medicare & Medicaid Services (CMS) maintains a very comprehensive website which delineates what Medicare does and does not cover. CMS' framework provides for a range of coverages with a range of prices. This includes Part C along with most of the letters between F and N. Here's their graph of supplemental coverages:
and here's a link to the page with more details. As you might expect, plans providing more coverage have higher premiums. That allows you to self-insure with low premiums/higher deductibles or pay more for the peace of mind of knowing that you'll pay less should a medical emergency arise.
I believe that considering what you need (rather than what various companies are offering) is the place to begin. You know who your medical providers are and what medicines you take. Gather that information in one place, then do one of two things.
For DIY types, go to this link on the Medicare website where you can enter your information. Then, compare plans to decide on the best fit for your needs. Medicare has been polling users for thirteen years and provides 'star' ratings for every plan available in your state. If you find a couple of plans that seem comparable cost-wise, you can select the one most highly rated by consumers, just like you do when buying anything else online. Since insurance can only be sold by a licensed agent, calling the number for the plan you decide upon will put you in touch with an agent selling the plan you've chosen.
For those of you who prefer not to do it yourself, contact an agent who represents multiple insurers and provide your medical information to that agent. She or he will do the research for you and suggest the best fit for your situation. Since an agent is going to be paid for selling the policy, it makes sense to me to let that person provide some service and earn the commission.
I've skipped over one of the letters, so I'll loop back and mention Part D, drug coverage. This was added to the program in 2003 and provides insurance for most prescription drugs. Just like the other types of coverage, one plan may cover the drugs you are taking while another may not. The same CMS link can be used to enter your own list of medicines, then compare the available plans. Again, an agent who sells multiple plans will do the comparisons for you. Let me caution you to sign-up for this coverage at the same time as you do the rest of Medicare. Failure to do so could easily result in delays in receiving initial coverage and higher premiums for the rest of your life.
Part C (Medicare Advantage) plans offer the least complicated approach: one card covers everything. People who have employer-provided coverage are familiar with PPOs – Preferred Provider Organizations. Most Advantage plans offer coverage via PPO and require co-pays at the time of service. These providers are local but you can probably have coverage switched to a different locality if you winter elsewhere. One advantage to traditional Medicare (perhaps plus one of the supplements) is that coverage is available everywhere in the country.
I have written about this topic before and no doubt will again as things change. Almost no one misses the opportunity to sign up for coverage initially. However, I suspect many people don't take the time to compare plans yearly to make sure they are getting the best possible coverage. Consider this your nudge.