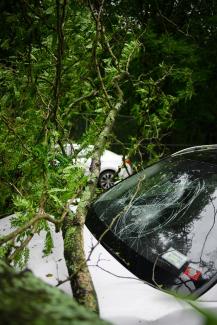 Insurance: It's All The Same Until There's A Claim
Today's title is taken from a continuing education session I attended. The speaker's point was, you could have great coverage and low premiums on paper, but if you actually need to use your insurance, you might be in for a surprise.
My family found this out at Thanksgiving when comparing accident outcomes. My nephew was in an accident in Montana, where he had a summer job, and my youngest son had an elk encounter in Colorado while working in New Mexico. My son and nephew were each treated differently by their respective insurance companies.
As long as individuals live full time in the same house as their parents, they are eligible to remain on their parents' policy. My nephew's insurance company claimed he was no longer living at home. Our insurance considered my son a member of the household, because he still had an Indiana license with our address.
Another insurance pitfall is not having enough coverage. In Indiana, minimum coverage requirements are:
Property damage: Pays for damage to other people's property caused by your car - $25,000.
Uninsured motorists (other driver has no insurance) bodily injury: Pays for injuries to other people you cause with your car - $25,000 per person/$50,000 per accident.
Underinsured motorists (other driver does not have enough insurance) bodily injury - $50,000.
Other types of coverage include:
Medical payments: Pays medical bills incurred by you and usually your passengers, if injured while riding in, entering or getting out of the car.
Collision: Subject to a deductible. Pays for damage to your car caused by collision or upset.
Comprehensive: Pays for damages to your car caused by perils other than collision or upset. This includes such losses as theft, fire, a windstorm and glass breakage. A deductible might apply.
While the state minimums work in most instances, they are generally too low to fully cover your liability after a serious accident. General recommendation is to have at least $100,000 per person, $300,000 per accident in bodily injury liability, and $100,000 per accident in property damage liability coverage. Wealthy individuals are encouraged to take out an umbrella insurance policy of $1 million or more.
Often, policies will come with additional types of coverage. Some are standard in a policy, and others cost extra. Gap insurance will pay the difference between what your car is worth and what you are responsible for on a lease or loan. New vehicle replacement protects against depreciation. Another example is windshield replacement. Those windshield replacement commercials don't tell you your deductible applies unless you have this additional coverage. So, your "free" repair might end up costing you $500 or $1,000 or might not be covered if your insurance requires a "preferred" repair shop.
When comparing costs, be sure each company is quoting on the same coverage. According to Nerdwallet, "Insurers look at similar factors, but they have their own 'secret sauce' when it comes to setting rates. So two companies can charge wildly different rates for the same driver."
Best practice is to get at least three quotes. Premium is one factor, but so is financial strength and reputation of a company. Visit your state's insurance department website to evaluate the reliability of the insurance companies, review consumer surveys, and talk to family and friends.
The best insurance is to avoid causing an accident in the first place. In addition to following safe-driver rules, monitor the traffic around you and anticipate erratic behavior. My son's elk encounter could have been a lot worse, but he saw the elk walking down the road and kept slowing down. So when the elk made a sudden turn, his car received "minor" damage, and he wasn't hurt.
Some accidents are unavoidable, and when you are in one, you will find out insurance is "all the same until there's a claim."