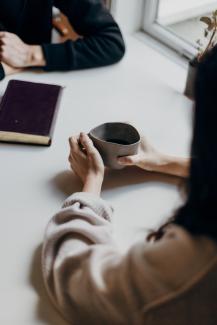 Embracing The Shift To Human-First Financial Guidance
There is a shift happening in the financial services industry. Historically, the driving force was product sales to meet a specific need. If you needed insurance, you went to an insurance agent. If you wanted to invest in the stock market, you found a stockbroker.
As financial needs grew more complex, the field of financial planning entered the picture. As our understating of how the brain works improves, the next major shift will move into the arena of behavioral finance.
This next shift occurring in the industry is to provide human-first financial guidance. In my words, this is a convergence of the disciplines of financial planning, life planning, coaching, behavioral finance and financial therapy. It is the recognition that "clients" are humans and, as humans, our thoughts and behaviors comprise a complex interaction of thoughts, feelings and beliefs. Our reactions are not always rational. It's a recognition that we, as advisers, are working in the intersection of the messy areas of human behavior, money and advice. Our real value comes from helping clients make the best choices possible to achieve their unique goals and helping them uncover what beliefs and values they hold most dear.
I attended the inaugural Shift Conference in March. I have had an interest in the "softer side" of financial planning from the beginning of my career. I have always been a "planner" first and an investment adviser second. As someone who has floated at the edge of this movement, I was thrilled to be invited to attend.
Motivating me to attend was the desire to connect and reconnect with many of the speakers I have had training from or whose software I use.
Susan Bradler, author of "Sudden Money: Managing a Financial Windfall," founded the Sudden Money Institute in 2000 and spearheaded the certified financial transitionists (CeFT) designation.

Amy Mullen is president of Money Quotient, founded in January 2001. Money Quotient provides practical ways to consistently bring life planning into financial planning firms. According to its underlying philosophy, "An individual's financial life can be represented by this simple formula: EQ (Emotional Awareness) + IQ (Financial Awareness) = MQ (Financial Well- Being)."

Sarah Stanley Fallaw is co-author of "The Next Millionaire Next Door" and founder and president of DataPoints. DataPoints is a suite of behavioral assessments that help uncover an individual's money attitude, risk tolerance, money beliefs and wealth-building competencies.

Carl Richards has more than 20 years of experience in financial planning and is a behavioral finance expert adept at "conveying complex financial concepts with just a Sharpie and paper." He is the chief evangelist for Elements, a "financial monitoring platform that encourages better behaviors for clients by promoting financial health. It displays digestible pieces of critical financial data, including debt, savings, spending, insurance, investments, and more, that become the building blocks of a comprehensive, easy-to-monitor financial plan. The Elements scorecard captures vital client data quickly and easily and presents a holistic picture of their financial life in a tangible and understandable way."
I was also able to connect with Neil Bage, a behavioral scientist and co-founder of Shaping Wealth, which was a new discovery for me. He gave an excellent presentation on "connecting the latest scientific thinking: from human evolution and psychology to human biology and neuroscience and how they combine to help people navigate the fast-paced 21st century world."
I admit, I was "fangirling" the whole conference. It was refreshing to be surrounded by experts and other like-minded individuals in this arena. It reinforced my belief that advisers can add more value to client relationships when they take a holistic approach and address more than portfolio management and tax planning. Deep listening and asking the right questions are some of the most important skills financial professionals need. Shift has become my new favorite conference, and I can't wait to see how the industry continues to shift in 2023 at Shift 2024.